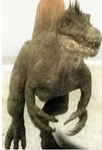 THIS ARTICLE IS VERY OUTDATED'''
This article is unrealistic. Do not trust this page as good information.
 VERY OUTDATED 
Is A Raptor fetuared in "Great American Predator" Where It sceares a young Acrocanthosaurs[118-96]
Trivia Deinonychus Is shown whinout feathers when scientists agree that Raptors have feathers
Ad blocker interference detected!
Wikia is a free-to-use site that makes money from advertising. We have a modified experience for viewers using ad blockers

Wikia is not accessible if you've made further modifications. Remove the custom ad blocker rule(s) and the page will load as expected.